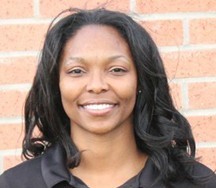 Danielle Douglas starts her second year as head coach of the Falcon men's and women's cross country and track & field teams in 2016-17.
Douglas, a native of Memphis, Tenn., has extensive head coaching experience in both cross country and track & field.
"I want to inspire people," said Douglas. "I want someone to look at me and say, because of you I didn't give up."
She was the head coach of both men's and women's track & field and men's and women's cross country teams at NCAA Div. I Mississippi Valley State University (MVSU) from 2012-14.
Douglas led the MVSU men's cross country team to consecutive conference championships. She guided the Delta Devils to the 2012 and 2013 Southwestern Athletic Conference (SWAC) cross country championship titles. Douglas has twice been named SWAC men's cross country Coach of the Year (2012, 2013). The women's cross country teams placed second in the SWAC Meet in 2012 and 2013.
From 2008-12 she was the head women's cross country and track & field coach. Douglas' teams made great progress and became a strong force in the SWAC. In six seasons, four of which Douglas was the head coach, she coached her athletes to 78 All-SWAC performances, seven event champions, two most outstanding meet performers, two NCAA Regional qualifiers, and one USATF junior National qualifier.
In her career she has coached 120 All-SWAC performers, 19 event champions, eight most outstanding meet performers, two NCAA regional qualifiers and one USATF junior national's qualifier.
From 2008-10 she served as the MVSU interim senior women's administrator and academic administrator. Douglas is a member of the U.S. Cross Country and Track & Field Coaches Association.
Douglas was a four-year letter winner at MVSU from 2000-2004, where she earned All-SWAC honors in the long jump. She also competed in the 100 and 200-meter dash and was a member of the 4x100 and 4x400-meter relays. Three times she was named the league's track & field Scholar-Athlete (2002, 2003, 2004). In 2003 she earned the conference's MVP award in indoor track & field. Douglas was also a Presidential Scholar (2003), a Distinguished Scholar (2001, 2003) and the women's Student-Athlete of the Year (2002).
Douglas earned her bachelor's degree in criminal justice from MVSU in 2004 before earning a master's in criminal justice in 2007. She is currently working on earning a PhD in business administration-leadership from Walden University. Douglas has also earned USATF Level 1 and American Red Cross CPR certifications. She is a certified BFS strength and conditioning coach. Douglas is a 2000 graduate of Whitehaven High School in Memphis, Tenn., and has one son, Jabri Jackson (10).